El Salvador International Airport (AIES)
Located just 45 minutes from San Salvador, El Salvador International Airport, popularly known as "Comalapa Airport", functions as the hub for domestic and foreign air travelers.
It was built between 1975 to 1979 by the Japanese company Hazama Gumi, and started operations in1980 with the projection of attending until the year 1990, an estimated of 850 passengers during peak hours, equivalent to 920,000 passengers annually.
The Executive Port Commission (CEPA) manages the airport with the goal of turning El Salvador into a Distribution and Logistics Center.
Originally it was called "Cuscatlán International Airport" until the year 1998 when was officially renamed "El Salvador International Airport".
This international terminal is one of the largest and most modern in Central America. It receives many flights from the United States, Canada, Caribbean, Europe and neighboring countries in the area. In addition the infrastructure has been expanded twice, in 1996 and 1998,in order to acilitate boarding and departure of travelers as well as to accelerate immigration and customs procedures and increase the number of planes on the tarmac.
Notably, in 2009, El Salvador International Airport received the Aerodrome Operator Certification is the only Central American region wit this recognition.
Among the facilities available for passengers are 30 counters, 31 free shops where you will find brand-name products, 22 local restaurants, two lounges, six craft shops, 3 phone companies, five transport companies and many tour operators.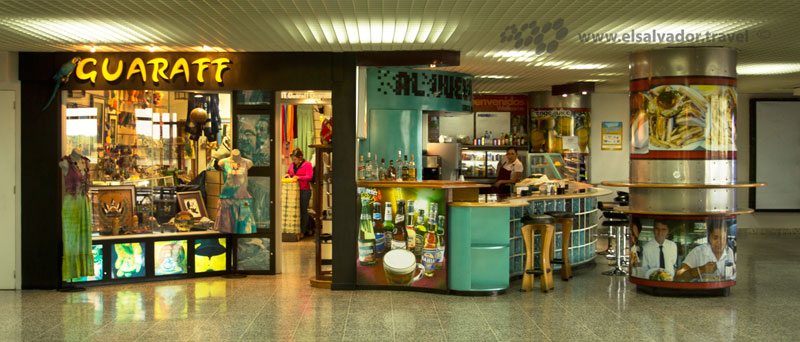 It has an extensive Terminal Building with 14 boarding gates that facilitate the movement of up to 1.9 million passengers a year.
According to airport records, the highest saturation of passengers takes place at noon (from 11:00 to 16:00), with 236 weekly operations. While in the mornings holds there are 217 weekly operations (from 5:30 to 9:00 pm), however the weekends are the busiest days.
Airlines that use AIES
Commercial Airlines :
| | |
| --- | --- |
| Airlines of Spain, S.A. (IBERIA) | |
| American Airlines, Inc. | |
| Avianca | |
| Continental Airlines, Inc. | |
| COPA | |
| Delta Airlines, Inc. | |
| Spirit Airlines Inc | |
| Taca International Airlines, Inc. | |
| Panamanian Aviation Company, Inc. | |
| Trans American Airlines, Inc. Branch El Salvador. | |

Cargo Airlines :
United Parcel Service Co.. Branch El Salvador.
Amerijet International Inc.  Branch El Salvador.
DHL Express El Salvador, Ltd.
Aeroruta Maya, SA
Other services available
El Salvador International Airport provides a wide variety of facilities for passengers:
 Flight arrivals and departures on the web: http://www.aeropuertoelsalvador.gob.sv/
"Secure Wrap" Service from US$ 12.00. More information: www.securewrap.com
Medical care 24 hours a day at no cost,
International Sanitary Bureau ( Ministry of Health) with epidemiological clinical service, located at the end of Gate 4.Notably, the Ministry of Health constantly monitors passengers since May 2009, using the latest thermo graphic camera that detects fever measuring body temperature.

Airport Medical Unit (A), located across from Gate 6.
Attention for tourists: You may request information for a variety of great tourist destinations, with the help of The Ministry of Tourism that will provide maps, brochures or you may consult the interactive screen with information on hotels, restaurants, destinations and more in English and French. It is located on the left side of the passenger departure area, just before the steps towards the area of immigration procedures.

The AIES has special windows for the passengers of the CA-4 agreement (Guatemala, El Salvador, Honduras and Nicaragua) to expedite the immigration process.
For tourists who do not belong to the CA-4 you may apply for a tourists card from US$ 10.00.
Special area for Diplomatic visitors.
There are five baggage bands to claim your personal belongings and carts for US$ 2.00.
More
Website: http://www.aeropuertoelsalvador.gob.sv
Phone: (503) 2397 2400
Airport Channel: http://www.aerotv.tv/index.aspx
How to get there
If traveling from San Salvador take the road leading to El Salvador International Airport (better known as Comalapa airport) It is 45 minutes away. The 4-line road has excellent conditions.
Satellite location
Height 138 feet
N 13° 26,600′
W 89° 03,550′